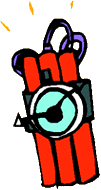 Citizens are requested that information regarding any suspicious activities, abandoned vehicles, articles, and other objects be promptly communicated to the police at the nearest police station or on telephone No. 100. The police also be informed of any strangers who may have come to stay in your neighborhood and whose activities appear suspicious. Information given by citizens regarding any suspicious persons and their activities will be kept confidential.
The police will continue to organise nakabandis, combing and search operations and therefore citizens are requested to cooperate and bear with inconvenience, if any.

Citizens may please note the following precautions:
Stay calm and do not get panicky.

Discourage rumour mongering

Do not touch any unidentified object. Explosive could be concealed in anything like toys, transistors, lunch boxes.

Do not accept any parcel from strangers.

Sensitise your all family members, especially children.

Ensure that you roll up all windows and quarter glasses of the vehicle and lock up the vehicle every time you park it. Bonnet and dickey should also be properly secured.

Before opening a car door, driver make sure that its dickey, bonnet, doors have not tempered with. If there is any suspicion, help of local police should be taken.

Pass on information about the abandoned vehicles, articles etc. promptly to the police at the nearest police station or on phone number 100.